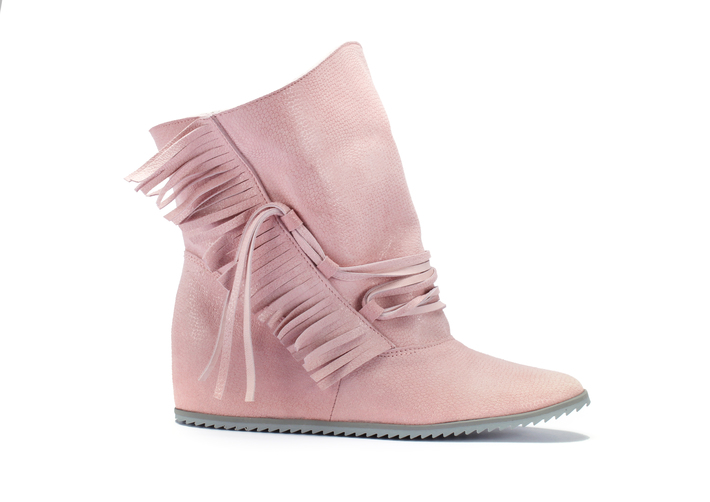 TO DETERMINE YOUR U.S., U.K., OR EUROPEAN SHOE SIZE:
1. Use a ruler or tape measurer to measure your foot (from the heel to the tip of your longest toe).
2. Choose a table below (U.S. to find your U.S. size, U.K. to find your U.K. size, Euro to find your European size).
3. Find the closest measurement, in inches, that is equal to or greater than the length of your foot.
MEASURING TIPS:
· To ensure an accurate reading when measuring, flatten your foot by shifting your weight forward.
· If your measurement is between two sizes, always move up to the larger size.
· Be sure to measure both feet. Many people have feet of different sizes. Fit to the larger of the two.
· Fit yourself at a similar time as when you will be wearing the footwear. For daily footwear, fit yourself when you've been on your feet all day because your feet have expanded.
ANKLE SHOES BOHO – POWDER PINK
Powder pink – the trend of recent years
This color has permanently incorporated into our styling a few years ago right after appearing in autumn-winter collections of brands such as Mulberry, Sonia Rykiel or Celine. It doesn't take long time – once seen, powder pink has truly infiltrated into fashionable canons, becoming an expression of true femininity, subtlety and romantic style.

You can combine your booties with other clothes in many ways. An interesting idea is contrast – powder pink perfectly completes with black or navy blue colours. You can put on the slims, in turn choosing a dress, remember about length. If it reached over your knee, it would be perfect, otherwise you would optically reduce your growth. Invaluable is also hidden, 4 cm cothurnus.
Attention to details
Choosing new boots from the Rita Krzysiek collection, you get a guarantee of quality and aesthetics. The model has fringes on both sides of the upper part which are uniquely connected with the shoelaces. Besides, we have created an aesthetic, zig-zag sole. Look also at the unwrapped upper part of boots – in many stylizations it will perfectly underline your style.
The sole: crepe
Composition: Leather 100%
Hidden cothurnus: 4 cm
Delivery time depends on the destination and lasts from 7 to 14 working days. Made in Poland (EU).