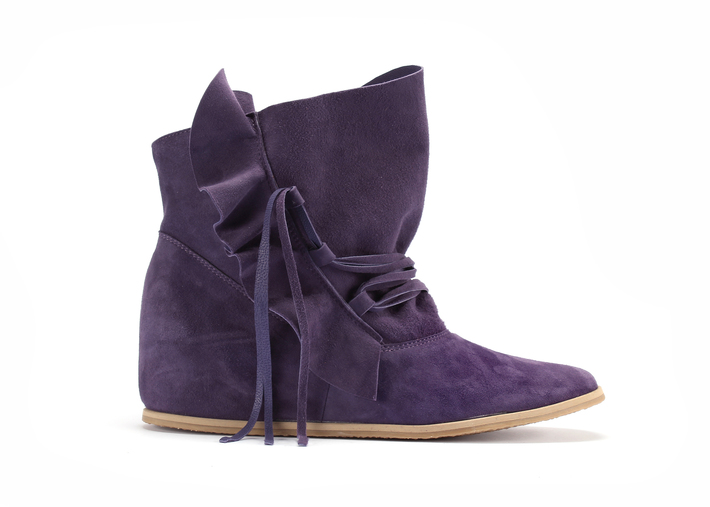 TO DETERMINE YOUR U.S., U.K., OR EUROPEAN SHOE SIZE:
1. Use a ruler or tape measurer to measure your foot (from the heel to the tip of your longest toe).
2. Choose a table below (U.S. to find your U.S. size, U.K. to find your U.K. size, Euro to find your European size).
3. Find the closest measurement, in inches, that is equal to or greater than the length of your foot.
MEASURING TIPS:
· To ensure an accurate reading when measuring, flatten your foot by shifting your weight forward.
· If your measurement is between two sizes, always move up to the larger size.
· Be sure to measure both feet. Many people have feet of different sizes. Fit to the larger of the two.
· Fit yourself at a similar time as when you will be wearing the footwear. For daily footwear, fit yourself when you've been on your feet all day because your feet have expanded.
SUEDE BOOTS – PURPLE
Subtle, purple shade with a characteristic pattern on the sides. Purchase new Rita Krzysiek ankle shoes from the collection for autumn 2017. Perfection of making with taking care of the smallest details – choose exceptional, Polish brand.
How to link purple color?
You can look at the color palette and choose the right combination for you. Most women limit their styling to one color line, which often causes monotony. Our tip: google the concept of color blocking and find out how to combine even the contrasting tones. Put on wealth and diversity!
Details and shipment
Below you can read additional informations about shoes composition and shipment time.
Upper part: 100% goatskin leather
Lining: 100% cowhide leather
Sole: crepe
Delivery time depends on location and is about 7-14 working days. Made in Poland (EU).