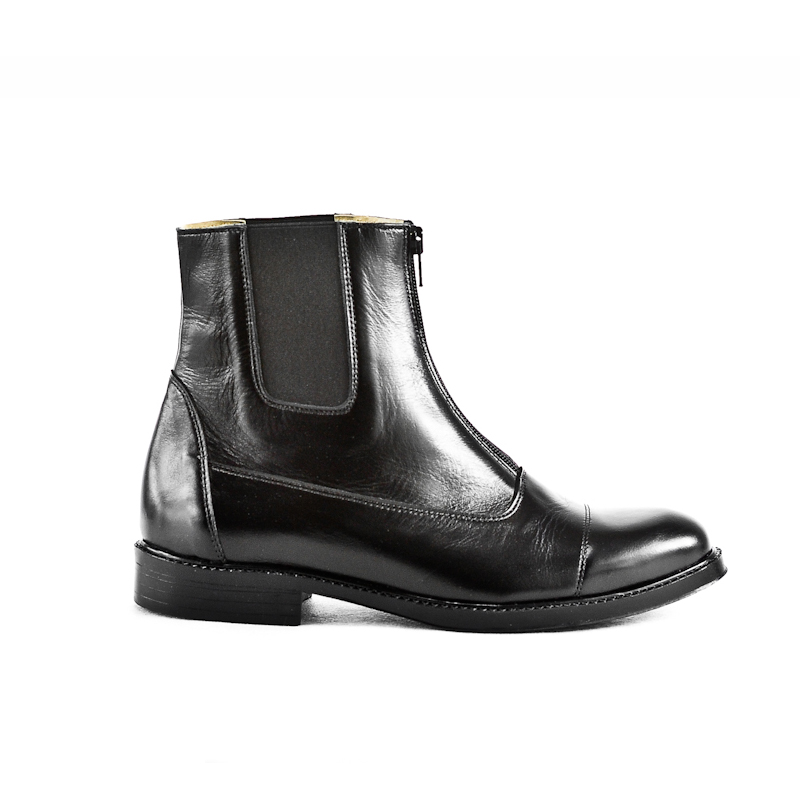 TO DETERMINE YOUR U.S., U.K., OR EUROPEAN SHOE SIZE:
1. Use a ruler or tape measurer to measure your foot (from the heel to the tip of your longest toe).
2. Choose a table below (U.S. to find your U.S. size, U.K. to find your U.K. size, Euro to find your European size).
3. Find the closest measurement, in inches, that is equal to or greater than the length of your foot.
MEASURING TIPS:
· To ensure an accurate reading when measuring, flatten your foot by shifting your weight forward.
· If your measurement is between two sizes, always move up to the larger size.
· Be sure to measure both feet. Many people have feet of different sizes. Fit to the larger of the two.
· Fit yourself at a similar time as when you will be wearing the footwear. For daily footwear, fit yourself when you've been on your feet all day because your feet have expanded.
LACQUERED ELASTIC SIDES S-100-ZP
Classic equestrian riding boots with zipper at the front. The upper boot is made of 100% calf leather and lined with natural leather lining. The sole is lined with tuni leather having an anti-skidding design. Elastic sides merge unique form with convenience – they are comfortable and also perfectly fit to the whole riding set.
Available in different colours and sizes: womens's 35-41 and mens's 40-47.
Delivery times vary depending on destination from 7-14 working days.
Product made in Poland, EU.